BIOGRAPHY
About the Artist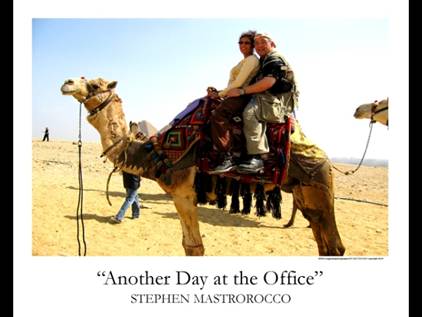 By his very nature, Stephen Mastrorocco is adventurous with an insatiable curiosity.  Mr. Mastrorocco explores the world and its scientific and archeological mysteries with the spirit of a child. He has explored the pyramids in Egypt, sailed across the Nile, rode through the desert on a camel and ridden hot air balloons over Africa.  He continually strives to communicate nature's complex wonders in a beautiful way.  He uses airplanes and helicopters as an artist would use a brush.  From above, he captures the very essence of nature's wonders.
Graduated from University of Michigan in 1983 with degrees in Naval Architecture and Marine Engineering along with Graduate Studies in Business.  He not only makes his cameras sing, but continually invents new equipment to enable his images to match his vision.  Ranked as one of the top Photographers in the World, he competes internationally with his photographs.  His image of the Stony Brook Gristmill won Best Print in the World in 2002 (ICPC Competition).  He has also has been honored with over 300 awards and recognitions over the last 5 years for his spectacular work.
His work on oil canvas has received critical acclaim and exhibits a painterly quality.  His recent series on Europe and the Mediterranean included renowned photography of the Vatican, The Holy City, the ruins of Pompeii, the Leaning Tower of Pisa, The Parthenon,  and the canals of Venice and Rome.  This work is currently on exhibit across the United States.   His yachting photo work is on permanent exhibit at the Herreshoff Museum and the America's Cup Museum.   Other photos currently are on exhibit in countless museums and libraries.  Mr. Mastrorocco's work has been published thousands of times in local and national periodicals.  His photograph of the bald eagle has been considered for the next United States postage stamp.  Chances are that once you have seen one of his photographs you will remember it for the rest of your life.
I am blessed with a both beautiful and adventurous wife.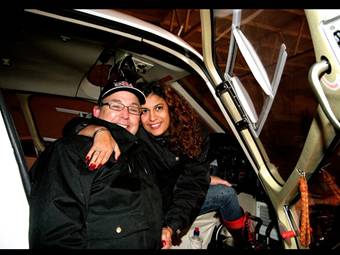 One of my favorite photos is when I proposed to her in a helicopter over the Statue of Liberty.
She spent eight years in the Air Force Surgical Command and has never hesitated to accompany me  on any quest.  Together we strive to communicate our experiences and what we see to the rest of the world.  People of the world are very  kind and loving and no matter where we have traveled we have always been greeted with a smile.  Currently Mr. Mastrorocco has over 14,000 images in production.  If you have any questions or comments please send us an e-mail, we would  love to hear from you ( scmphoto@optonline.net)